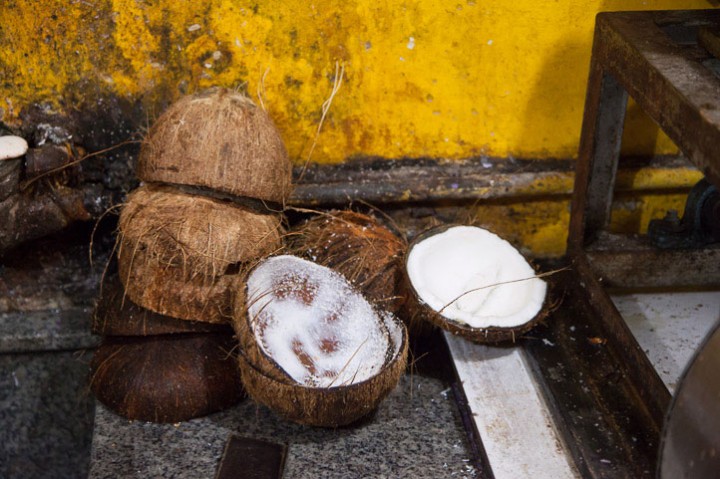 Coconuts are everywhere in the Philippines. The are used in many ways that can sometimes be quite surprising for European people. Filipinos know how to make the best of the whole coconut tree, from its leaves to its trunk, but their favorite part is of course the coconut. A fruit from which they get milk, water, flour, sugar. They also make alcohol, vinegar, jelly, ropes, mattresses, charcoal, music instruments and so many other things with it that I can't name them all. What's really weird about it is that you'll never see a Filipino eat mature coconut as a simple fruit. Here is the whole story.
The Philippines and coconuts are indissociable. Indeed the archipelago is the first coconut producer in the world, with an average 19,500,000 tons a year. It's colossal. The geography and the topography of the country make this huge production possible. Coconuts come from the coconut palm, a palm tree that grows in tropical regions, in coastal areas. On the map below, you'll see, between the red lines, its natural habitat. Mostly coastal areas, but it's not always the case. In India for instance, you'll be able to find coconut palms at greater altitudes, as high as above 1,000 meters. But those ones are not grown for commercial use.
Apart from those xceptions, coconut palms love the coast, so the Philippines are just perfect for them. 7,107 islands, 36,289 kilometers of coastline, it's a land made for them. Only 5 countries in the world have a bigger total coastline length: Canada, Norway, Indonesia, Denmark (thanks to Greenland) and Russia. But they all have terrible weather conditions for coconut palms, except for Indonesia. No surprise this country is the second coconut producer in the world. And it used to be the first. The Philippines overtook Indonesia only a few years ago.
Loco en el Coco
The coconut palm can be used for almost anything. Filipinos have found ways to use it that can be disconcerting. Especially the fruit, the famous nut. It's a fascinating natural product. Let's have a close look at it. First, it is not a nut in the botanical sense. It's a seed, or more exactly a drupe. In short, it's a fruit with a seed inside, like a peach, a mango or a cherry. But the fruit might not be edible, which is the case for the coconut. What we really eat is the inside of the seed. Apricots for instance, even though their fruit is edible, have the same kind of edible seed. Inside, you'll find a slightly bitter almond. The Italians use this almond to make the famous biscuits called amaretti.
While we're at it, do you know why this false nut is called coconut? Who is this Coco? Well, he's the Portuguese and Hispanic boogeyman."Duérmete niño, duérmete ya… Que viene el Coco y te comerá." Those are the lyrics of a nice lullaby, not creepy at all, that was sung centuries ago. It means "Sleep Child, sleep now… Or the Coco will come and he will eat you." Sweet. According to the linguist Fernando Díez Losada, Vasco Da Gama's sailors gave his name to the coconuts when they first saw them, in the 16th century. It was in India.
Those men were scared of the coconuts. Indeed they have three black marks on one side. They are in fact germination holes. The baby coconut palm will come out of them. But the sailors thought they saw a face. Two eyes, one mouth, looking at them. Etymologically, the word Coco means skull. So they saw a skull, with the Coco's grinning face on it. I guess it's understandable when you've been raised on creepy lullabies. So they gave his name to the drupe. It's an easy word, that anybody can pronounce. So it stayed.
Since then, we've learnt to know the coconut a little better. We can buy it in supermarkets in Europe. But we only know it in its mature stage, without its outermost layer. Any French person would proceed this way: first they would make holes through the eyes of the boogeyman, and get the water out. They would filter it and drink it. It's sweet, full of potassium, vitamins and proteins.
Then they would open the drupe, more likely with a hammer, and remove the pulp from the shell. Finally, they would eat the pulp right away, biting it like any fruit. When I do that in the Philippines, everyone stares at me. At the market, the coconut vendors are laughing their heads off when they see me eating the mature pulp like it's an apple.
A few weeks ago, I bought one in Pateros with my Filipina friend Leane. When she saw me eating it, she was kind of fascinated. She asked if it wasn't too hard. So I asked her: "You've never tried it like that?" She looks at me like I'm loco en el Coco and says: "No. Can I try?" Of course. I hand it to her. She bites, sees that she can do it without any problem et tells me: "Wow, it's good! I would never have thought of this."
To eat it or not to eat it, that's the question
Indeed, the way I eat it is a complete aberration in the Philippines. There are coconuts everywhere here, but no one eats them like that. When I ask the vendors to simply crack it open and remove the pulp from its shell, I often hear: "No my friend, no! You can't eat it, you're going to break your teeth. You have to grate it."
And sometimes, it's worse, they don't even manage to get what I'm saying, because it sounds so strange to them. Here, at the market, mature coconuts are only meant to be grated by machines that look like giant lemon squeezers.
The grated pulp will then be used to cook. It's great in a sauce, and it's also perfect to bake cakes and other sweet things. But it can also be pressed to extract coconut milk. They have another machine for that, that will press the grated pulp until it gives a beautiful thick white milk. It's filtered, sold in plastic bags, and it will be used as a base for sweet or savory sauces, or to make pastries, candies, or any other kind of desert or merienda.
If you ask for a coconut to take away and eat like a fruit, Filipinos will automatically think that you are talking about a buko. It's a young coconut, still green. The water found inside of it is much sweeter than the water from the mature ones. Indeed it gets bitter as the coconut ages. Usually, the top of the buko is removed with a machete. You will then have a small hole from which you can drink the water, with a straw or just drinking directly from the hole. You'll have 30 centiliters to 1 liter of water in one buko.
Then they'll cut the buko open, still with the machete, and the little part of the shell they had removed before will make a great spoon to eat the young, gelatinous pulp. There is much less pulp in a buko than in a mature coconut. When maturing, its water becomes pulp and air. So the buko has much more water, and it's much sweeter and refreshing than the brown coconuts. It's delicious, or, as we say here, "masarap."
The most polyvalent fruit
When I look at the sophisticated techniques and amazing uses Filipinos found for the coconut, it seems really strange to me that they never eat it mature as a fruit. Every part of the coconut will be used in so many ways that I won't be able to name every one of them. I can imagine thousands of years of ideas, work and experiences to get those practices that are deeply rooted in the local culture.
The husk of the coconut can be used to make ropes, mats, mattresses, brushes or caulking for boats. Once burnt, it produces an excellent charcoal that will be used for barbecues and many other things. They also make music instruments with it, like the maglatalik. Maglatalik performers have several coconut shell halves in their hands and on their body. They hit one coconut with the other, mixing dance, percussions and martial arts.
In Palawan, I've found masks made from coconut shells. Their first function is not decorative at all. They are chicken traps. I'll have to go back there to ask someone to show me exactly how it works. But basically, you balance the mask on the sticks, which are tied to a string. When the chicken comes to eat the grain you have put under the mask, you pull the string and the mask falls. The chicken is trapped. I'll try it for real next time.
I cannot name everything that's possible with coconuts. Filipinos have invented dozens of games using coconut shells; it's also used as a building material, or tableware… Really, everything has been tried and done. The pulp is also very useful. When it's dried, it's called copra. An oil is extracted from it. This oil is so fibrous that it's mainly used to feed animals, not humans. Copra is extremely flammable. It can burst in flames spontaneously. Therefore it is forbidden on planes.
Finally, you can make a lot of things with the water that's inside coconuts, preferably buko. It makes a fantastic vinegar and several types of alcohol. The strongest of all is called lambanog, "coconut vodka". It's pretty hardcore, 80% pure alcohol. You can drink it dry, if you like to suffer, or mix it with fruit juice for a nice cocktail.
When fermented, coconut water becomes a thick jelly, called nata de coco, which is one of the basic ingredients of one of the favorite deserts in the Philippines, halo halo. And just so you know, coconut water is sterile. It can be kept for up to 2 years. And most of all, it can serve as an emergency short-term intravenous hydration fluid.
So, from the chicken trap to the mattress and the deserts, coconuts are definitely the most polyvalent fruits in the Philippines. Having said that, they will never be eaten in the simplest way, as fruits, which is the only way Westerners know. It's the sign of a mindscape in which coconuts have been thought through and used in the most sophisticated ways. It's also the sign, like any civilization that mastered one subject, that when it comes to coconuts, Filipinos won't make it simple, because they know how to make it complicated.