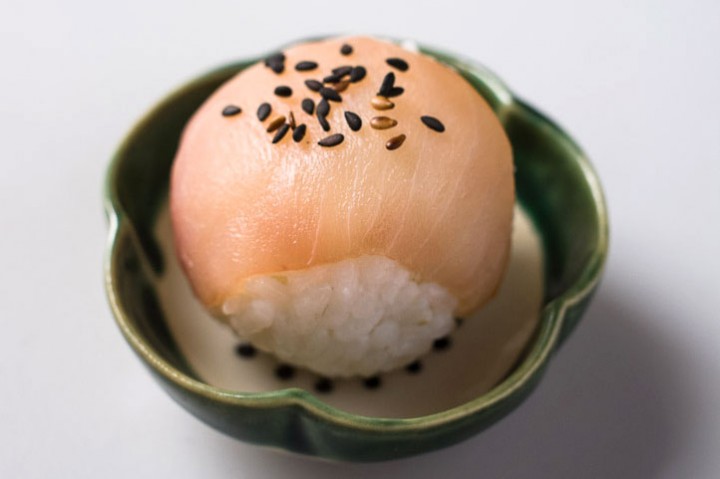 It's by far the easiest sushi to make. And the one that requires almost no equipment. No need of a makisu (the mat to make maki), a mould or other dedicated tool. You just need your two hands. And if you really want to make it easy, you can use some cellophane.
You will need :
some cellophane
sushi rice ready to use
ingredients of your choice : raw fish (or smoked/cooked fish), shrimp, raw/cooked/pickled vegetables, sesame seeds, etc.
How to make it :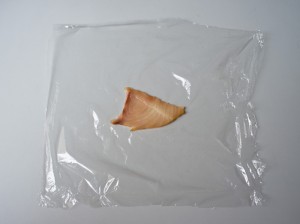 Put some cellophane (20cmx20cm will do) on any flat surface. Put on it what you want to have on top of your sushi : some fish for example. I have used smoked wahoo. It's a fish from the same family as mackerels and tunas. In French, the names of the wahoo are quite amazing: we call it literally "banana tuna" or "bastard thazard". I'm just saying.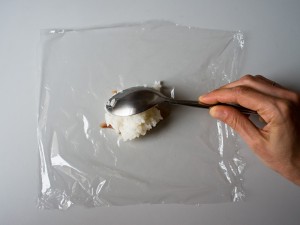 Put the quivalent of a big teaspoon of rice on top of the fish. If you press the rice in the spoon to make it dense, the rest of the recipe will be easier.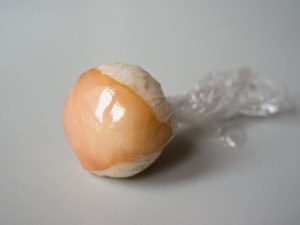 Take the cellophane in your hands and form a ball shape, compressing the rice as much as you can.
You will need to chase the air out of the cellophane as you compress it. If you don't, it will get torn by the pressure.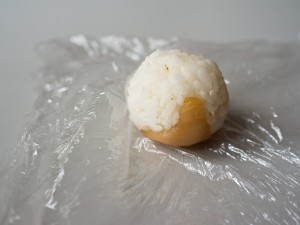 You should get a very round ball, about the size of a ping pong ball. If the ingredient you've put on top of the rice is too stiff, the "ball effect" won't be total.
Once you have your ball, just get it out of the cellophane.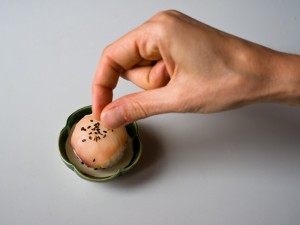 You can add the final touch. Some roasted sesame seeds for instance, or cucumber, grated carots etc… 15 ideas to make original temari sushi are available here.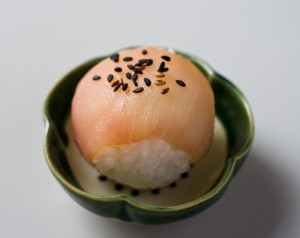 If you fail, there are reasonable explanations:
- the rice was not compressed enough and the sushi is falling apart.
- The rice was undercooked/overcooked to begin with. If it was overcooked, the ball will be sticky. If it was undercooked, it won't stay in a ball shape because it's too dry.
- You're drunk/you're the worst cook/you're doing it on purpose, come eat at my place.