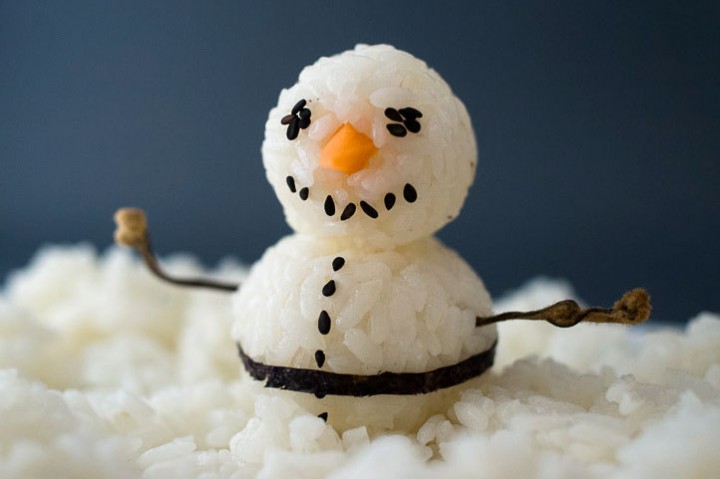 December is rather warm this year. There is no snow in Paris, contrarily to last year. But when you live in the Philippines and come back to Paris in December, you still freeze. So I though it was the perfect time to make a winter temari. All those little white balls look like snow, and the idea grew on me. I had to make a snowman.
It's quite easy to make this snowman. You'll need:
some sushi rice, ready to use
some cellophane
a little piece of carrot
black sesame seeds
some dried Japanese ferns, ou warabi
a piece of nori seaweed
I've simply made my rice balls like always. One must be smaller than the other, as it will be the head. You can use plain rice balls or fill them with something wintery, Christmasy, like chestnuts, turkey, or why not foie gras (oh yes, I've tried sushi with seazed foie gras once, it's delicious).
Then I've worked on the face of the snowman. On the smallest ball, I've used black sesame seeds for the eyes and the mouth. For the nose, I've cut a little piece of carrot that I've put in the middle of the face. Face done. For the body, I've used black sesame again. It represents the buttons of the snowman. Its belt is a piece of nori. Its arms are two dries fern heads, about 3 centimeters long.
Finally I've put the head on top of the body. I've flatten the top of the body before, so it is stable. And because the rice is my snow, I've put my snowman in a plate full of mountains of sushi rice. That's it, it's ready, you can enjoy your snowman. Bon appétit!