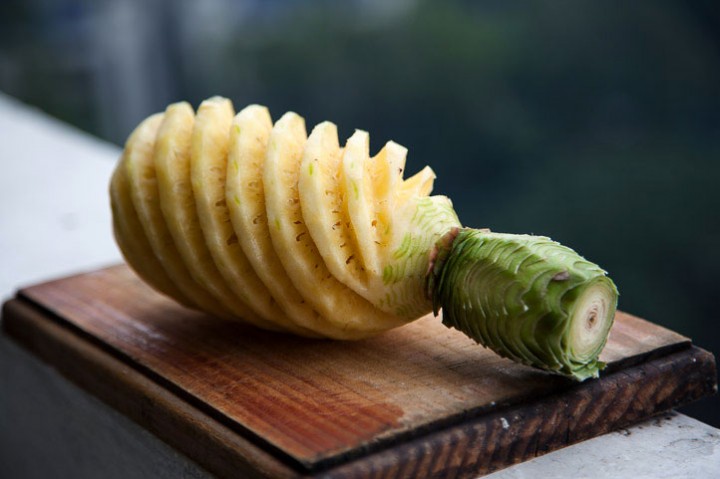 French people don't have any idea how to peel pineapples. If you give them a knife and wait, you might end up seeing a real massacre. So, for them and all the people who are lost in front of this fruit, here is the Filipino secret to peel pineapples. And while we're at it, we'll learn some stuff that will make you shine in society.
First of all, pineapple is a multiple fruit. Which means that before being a fruit, it was several flowers. You know, the little brown spots that you see on the pineapple peel, and that are sort of hairy and hard to cut off: these are what remains of the flowers. You can see the exact same thing on mulberries or strawberries. They too are multiple fruits. Yes, we're learning crazy stuff today.
Now let's look at the shape of the fruit. It's unique. Pineapples have a core that is continuous with the stem supporting the fruit and with the crown. This core is very fibrous. If you eat too much of it, you might develop bezoars (keep that word in mind for your next Scrabble), which are balls of fibers that clog the digestive system. Just like the balls of hairs that cats end up getting when they lick their fur. Or the ones that owls develop from the indigestible parts of the rodents they feed on.
An American in the Philippines
The pineapples we find in shops in Europe have kept their superior crown, but the inferior one, that is part of the stem, has been cut off. In nature, pineapples look like the picture below. I have taken this shot in Indonesia, on the back side of the road. There, these fruits grow very easily. In the Philippines too. Yet pineapples don't come from Asia at all.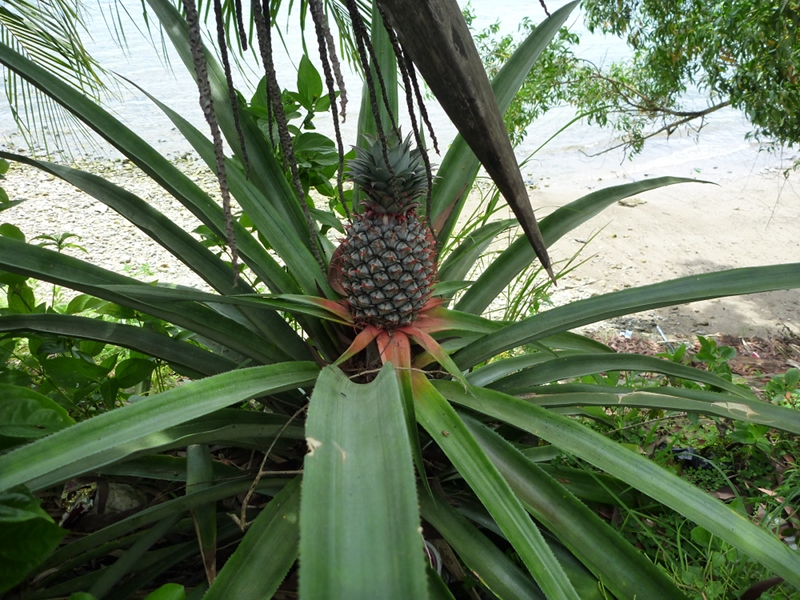 This weird multiple fruit originates from Central America. Carib Indians introduced it in the Caribbean islands, probably around the 9th century. Later on, in 1493, Christopher Colombus -sorry, Cristoforo Colombo- found one in Guadeloupe. He was so proud, Cristoforo, he had something to bring back home. So he took it to Spain where everyone got crazy about the delicious sweet and sour taste. Then as the Spanish were colonizing more countries, at the beginning of the 16th century, they introduced it in Asia. In their only colony there: the Philippines. Because they wanted more pineapples. Always more.
Pineapples loved their new Filipino life (I can't blame them). They grew and grew without any problem. Now, the country has the first pineapple production in the world. The south of the archipelago is covered with plantations of a very sweet cultivar. But exports are not that huge. And most of them are canned. The king of fresh pineapple exports stays Costa Rica, even though they globally produce much less pineapples than the Philippines. So most of the Filipino production stays inside the country, for local trade.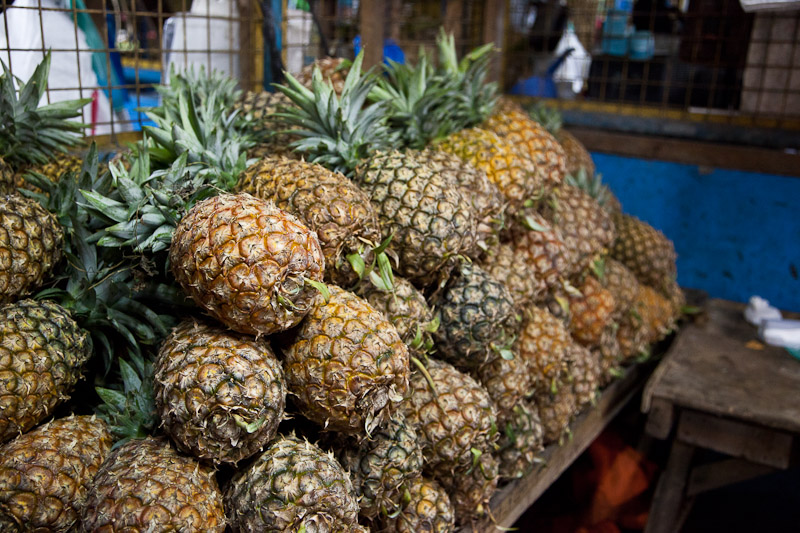 They're sold in the streets, already peeled and ready to eat, sometimes with salt on it. You can also buy buy the whole fruit with its skin on at the market, but honestly, the peeled ones are so beautiful that it is hard to resist. And if you're lazy, the choice is already done. Small pineapples cost as less as 20 pesos, about 30 euro cents. But some of them weight several kilos, so the prices can go much higher. Here, fruits and vegetables are not calibrated as they are in France, so there can be incredible differences in sizes between pineapples of the same cultivar coming from the same plantation.
By the way, speaking of cultivars, there are many of them. Colors and sizes vary. Just among the most common ones, the weight of the ripe fruit can go from 400 grams for certain varieties up to 10 kilos for some others. They can be bright red, perfectly white, yellow, orange…
The secret of the Pretty Pinoy Pineapple
Okay, let's cut to the chase. Let's peel this pineapple already. I have seen a woman use this technique in San Andres Market, in Manila. Using a simple box cutter, she started trimming the upper crown. When it's done, the crown is armless. All that's left is a sort of handle that will be very handy for the rest of the operations. That's one of the first great ideas of this technique. Then she peeled the skin, from top to bottom.
Once the whole skin is off, there is still one big problem : the eyes we were talking about before, you know, the little flowers. You just can't leave them on saying that it's okay. Nobody likes to eat them. And there are so many of them! 100 to 200 on each fruit. So you have to do something. But something that won't disfigure your pineapple.
That's the greatest part of the Filipino technique. Oh no, it's won't disfigure your pineapple, it will make it look awesome. It is very simple. All of these eyes have a geometric pattern. So patiently, the woman from the market, still with a box cutter, starts making incisions forming sorts of furrows. These diagonal stripes are just the width of an eye. When she's done incising, she removes the pulp from the stripe, and along with it come the eyes.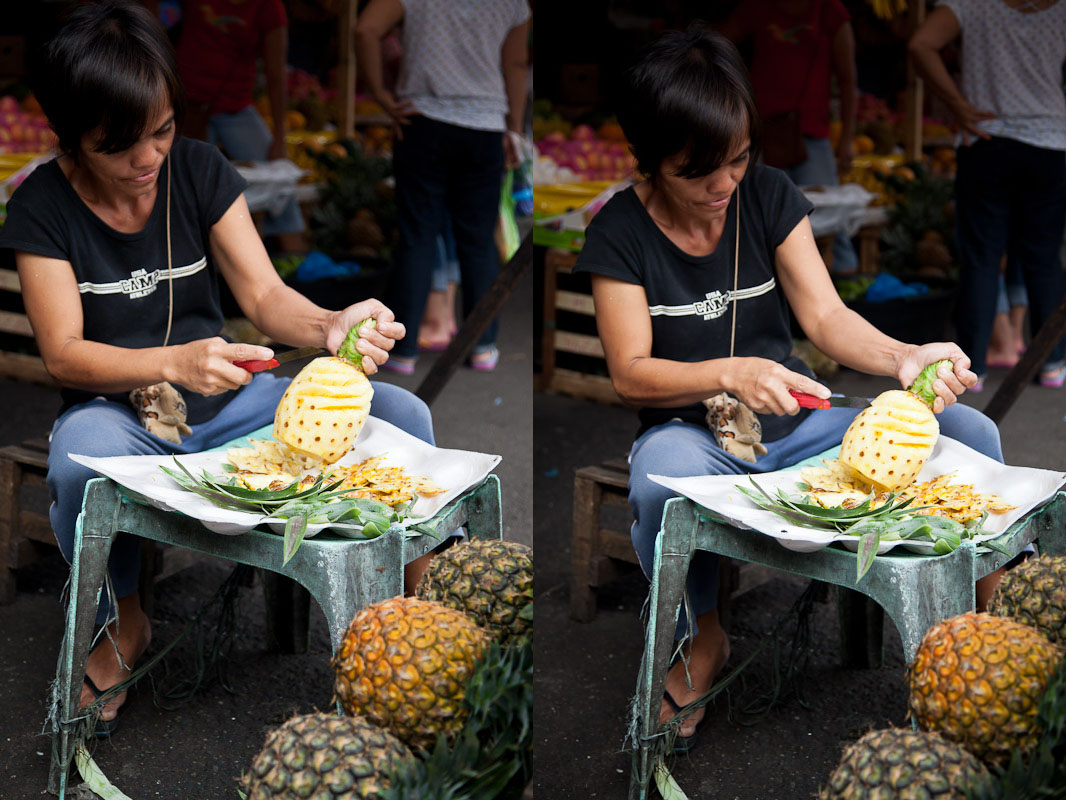 This technique will give your pineapple a terrific look. But it is also a clever way to go because you will save a lot of the total mass of your fruit, for two reasons. First, as you use the handle you won't press on the fruit. And as you cut finely, following the structure of the fruit you don't destroy the fibers. So it will not get to juicy. That's the first thing, juice.
But the most important thing is the pulp. And that's the second reason: you will only remove the pulp that's in between the eyes as you make your diagonal cut. All the pulp that is between the diagonal stripes will stay intact.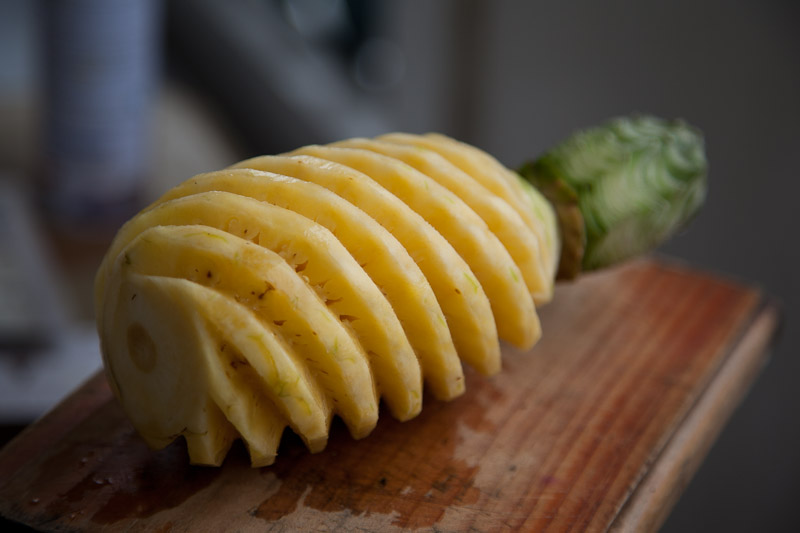 It's very hard to say no to those Pretty Pinoy Pineapples. But please be careful about one or two things. If in nature, you encounter a pineapple (I don't know, maybe you walk in the jungle sometimes), stay calm. Don't get busy with your box cutter already. Take a careful look at it before. Most of the wild kinds of pineapple are toxic, so make sure it is eatable. And when you're sure, check if it is ripe. All pineapples are toxic when unripe, even the good kinds.
In some cultures, the unripe fruit was used (and is still used, apparently) to abort pregnancy or deregulate the menstrual cycle. It seems that any strong intake of vitamin C will have the same effect. The Mayas used papaya for abortions. So don't eat to much of it. And this warning applies to you if you're a man too. Because pineapples are very astringent, which means it shrinks the mucous membranes and and dries their secretions. So you'll end up with a crazy load of aphtous ulcers and a very, very dry mouth.
So, now that you know everything, take your knives out. You'll become a pineapple artist. You'll be able to invite some friends over and serve them this gorgeous fruit, dropping amazing anecdotes from time to time. You're on your way to becoming a rockstar.