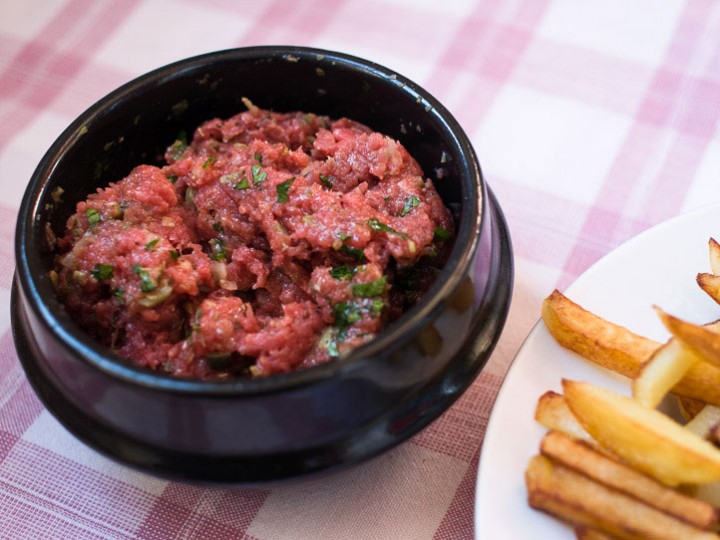 Eaten raw food is not an issue for anyone. Well, as long as we're talking about fruits or vegetables. But as soon as you step out of the vegan world, things can get weird. In France, we eat steak tartare, raw beef meat. And yet many raw beef amateurs are absolutely disgusted by the idea of raw fish, like sushi for instance. Sure, there might be some ignorance here, but not only: in France, it's not that usual to find fish of that quality.
The French have this misconception about fish: they believe it always stinks. And when they picture themselves eating it raw, they imagine this smelly, slimy thing in their mouth and throat. The thing is that in France, it's true, fish smells most of the time. It's hard to believe, when you arrive in Tokyo, Seoul, Manila or Hong Kong, coming from Paris, that a fish market can smell so…neutral. And it's a fact: when the fish is really fresh, it doesn't smell anything. We're not used to that. Weirdly, having said that, we French eat huge amounts of raw oysters each year. But as they are still alive as we eat them, the smell is really discreet. And I have to say, oysters are not everyone's favorite.
We might not be used to raw fish, but we clearly love raw meat. Not any kind of meat: beef. The Japanese agree with us on that. But it's kind of easy for the Japanese to agree with anyone who eats anything raw. They are the kings of the raw. They can eat anything in sashimi. Seashell, chicken liver, horse, live fish, whale, name it, they'll eat it right away. On the contrary, some find the idea of raw meat repelling. I'm talking about Americans for instance, shocked by the idea of raw beef even though they love sushi. They are not the only ones. A lot of people from different cultures don't really get our taste.
No, raw beef meat doesn't smell
When I've told my Filipino friends that raw beef meat was one of the things I missed the most in Manila, they were very surprised. First of all, they did not know it was a tradition in France. Second of all, they got slightly disgusted and asked: "But the smell is not too… gross?" I wasn't expecting that question to be honest. Now that I think of it, it is only exactly the same thing the French have with fish.
In the Philippines, when you eat beef, it usually comes from far, far away. And those cows are not the gorgeous, happy cows from selected breeds that we have in France. So basically they only get meat that is not high quality enough to be eaten in a tartare. Also because it is just impossible to keeps meat refrigerated at all times in the local conditions. So, even if the beef was gorgeous, it would get bad very quickly. And anyway, most of the time, meat is sold at the market, without any refrigeration, in a hot and sweaty atmosphere. So, never mind the germs, there're here anyway. I cannot really spend time in that area of the market. The smell makes me sick. And when I go to fish stalls, my nose is so happy I could stay there for hours.
So I explained my friends that our steak tartare is just like their kinilaw. It has no more smell than on a freshly caught fish. Our butcher shops are clean and have refrigerated windows. When you're in the shop, you virtually cannot smell the meat. If it was not the case, we would never trust the butcher. Because you need to trust this guy a lot to buy raw meat from him. I'm not even talking about the bacteria, I'm talking about the taenia, a huge tapeworm that will grow up to 12 meters inside your intestines. That's the kind of thing you can catch if the meat is not handled properly. The opera singer Maria Callas supposedly tried to catch one for moths, eating only tartare, as she wanted to stay thin without any effort. Because in your intestines, the worm feeds on your food.
Regarding the taste of raw meat, it's really not what you expect. As the Maillard reaction (the chemical reaction that gives this strong taste to the meat when you cook it) did not occur, since there was no cooking, the beef has a very light taste. It's sweet, really. Exactly like raw fish: the taste is not as strong as cooked. Besides, just like kinilaw, the tartare is a preparation, not just a piece a raw meat. A large number of ingredients with a very strong taste come with it. And they're what makes the tartare a French dish.
The tartare comes from the… Cossacks
Originally, steak tartare is not French at all. It's not even European. It came from the Cossacks and not the Tartars. We met those fellows in Ukraine and stole their recipe at the beginning of the 16th century. We've had a hard time differencing the Cossacks from the Tartars because their horse-riding nomadic cultures, both from Central Asia, seemed similar enough to the eyes of the 16th century Frenchmen to be mistaken. The Cossacks would put salted raw horse meat under their saddles and ride their horses until the salted meat got drained from its blood. Then they would thinly slice it with a knife and eat it. We took the idea and the main ingredient, but left the saddle. And then we added a few very local ingredients. We use horse meat, just like them, but it is getting more and more difficult to find. The most common tartare is made with beef.
In Korea, they have the same taste for beef and horse meat which is eaten… Raw, in a tartare. They had to deal with a Mongolian invasion in the 13th century, and the Mongols prepared their meat just like the Cossacks. After all, the Cossacks have Turkish, Tartar and Slavic origins.The Korean tartare looks just like ours. But if you look closer, you will notice that the ingredients they use are not exactly the same as ours. It's logical since they have different natural resources and different tastes.
They call this dish yukhoe. The meat (beef or horse, muscle or innards) is presented in the exact same fashion as ours: it's thinly sliced or ground, seasoned, and served with a raw egg yolk. Then you have small portions of sliced ingredients to add to the meat and mix with it. It's very playful. And you can adjust the meat to your specific taste. If you like it spicier, stronger, sweeter, you can do it. You're the one in charge of the balance of the mix. Even at the restaurant. They're in charge of the quality of the meat they serve you. You do the rest.
Here is the difference between the French and the Korean tartares: we use onions, capers, parsley, pickled gherkins, mustard, Worcestershire sauce and tabasco. Yukhoe is made with soy sauce, spring onions, garlic, sesame seeds and sesame oil, bae (a local pear), guchujang (a condiment made with chili peppers) and sugar. Sometimes they also put pine nuts in it. So the Korean recipe is much sweeter than ours, but most of all, it's insanely spicy. Korean people love spicy food, we don't really. They will serve it with rice. We will prefer French fries (of course).
The Worcester enigma
The French version of steak tartare is mainly savoury and sour. Mustard, pickled capers and gherkins bring sour, salted and slightly sweet tastes. Regarding the Worcestershire sauce, there are some interesting things to say. This British sauce has a strong, smoky flavor which is very enigmatic. You cannot get a substitute for this sauce in the tartare as it has such a particular taste. A lot of people love it and yet don't have any idea how it's made.
Lea and Perrins, two Welsh chemists, came up with the recipe for this sauce in 1837. 1837, it's the golden age of Orientalism and colonialism. The Indies were ruled by the British empire. The exact origin of this sauce might be questioned, but we're sure that it has something to do with India. And when you look at the ingredients, you understand that it has a definite Asian touch.
In the Worcestershire sauce, you'll find malt vinegar (that's so English, it's the vinegar they use for their famous vinegar potato chips), molasses, lemon juice, soy sauce (here we go, we're in Asia), cane sugar, anchovies, tamarind and a secret blend of spices. This mix is fermented for a long time. After that, you get this weird, complex sauce, somewhere between nuoc mam, pad thai and the Welsh countryside.
Its smoky flavor match perfectly the taste of beef, so it easily became a major ingredient of the steak tartare recipe. This sauce is a recent ingredient in the tartare recipe, compared to the other ones, but it was so perfect in it that it became a major ingredient, with no possible substitute. A French product is said to be close to the Worcester: it is called Viandox. But it doesn't taste the same at all. Yes, it also contains soy sauce, but no fish. Instead, there is some meat extract in it. And to enhance the flavors, this sauce is literally full of MSG. Kind of disgusting. And by the way, it is not even French. It was invented by Justus von Liebig, a German chemist. So let's stick to the real thing, the good old Worcestershire sauce.
Okay, now that we know that we are eating raw beef with anchovies, things are a bit different, but it's not that bad. Look at our Belgian neighbors for instance, the put mayonnaise in the steak tartare… And more and more people do it in France. I don't like this idea at all. Belgians, please, do whatever you want with your beef, but leave ours alone. Because if there is one dish I had to pick in the immense French gastronomy patrimony -even though it is not a pure French tradition- it would steak tartare the way we do it, with no mayonnaise, and with anchovies.