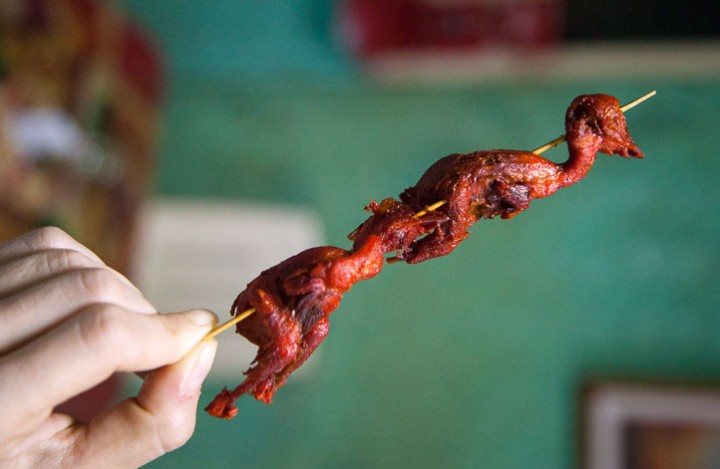 These little chicks are so cute. It is one of the Filipino snacks I was dying to try. It's made of mini-chickens, barely out of their egg and already on a stick. Just born, just killed, they are marinated and then barbecued or fried.
I've found them in central Coron Town, on Busuanga Island. They looked great. I mean, that is really something different, it's very appealing to me. But I already knew there were good chances I would be disappointed by the taste.
I buy one of them. They are sold in pairs, skewered rump to the top of the skull. Very small, very nice. The seller fries them. As often in the Philippines, the oil used for frying is not the cleanest and healthiest. It has served all day to fry a huge variety of other stuff, and it was the same oil the previous days as well.
The result, as I expected, isn't great. The little chicks are a bit dry and are not that tasty; I can really taste the old oil though. The bones are tiny but already hard. I don't think it's a very good idea to eat them, even though all Filipinos seem to do it. So sorry, I haven't been able to eat and chew their little heads and skulls, so I cannot tell you what it's like, but usually, you are supposed to eat the whole thing.
Too bad you're a male
The little chicks used around the Philippines to make this snack are all males. They are rejected by egg factories that only keep females. These ones will become laying hens. The males are garbage.
Each year, in Western Philippines, more than 250 million mini-chickens are killed. It's coming expensive to feed all these animals. It would be a waste to keep them alive for more than one day if we already know that they won't produce anything. So, as soon as the sexer has done his job, hop, they die if they are unlucky enough to be males.
I ask the vendor from Coron where his little chicks come from, assuming it's a farm in the neighborhood and I will be able to see the whole process of the one-day-old-chick, from the egg to the skewer. But then… Surprise, the little guys are from Pateros! Just like the balut and the salted eggs, well, all roads definitely lead to Manila if you're looking for eggs.
I don't know exactly what they do to the chicks there, because when they get to Pateros, the little guys are already dead. Most of them actually originate from Pampanga. In Pateros, I suppose they undergo the last steps of the processing : getting their feathers removed and marinating. I'll go back to Manila in a few days, I'll try to get more answers. Let the investigation begin.