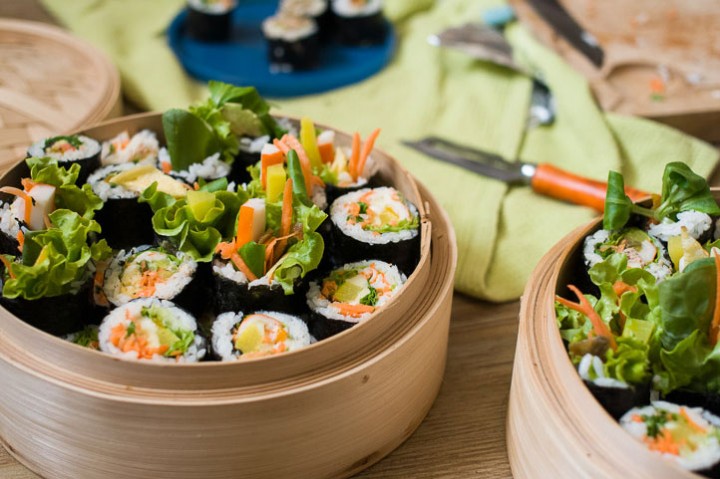 To celebrate Kim Jong Il's death, let's eat Korean food! We'll make kimbap, one of the most popular snacks in Korea. It's very easy to make, you'll just need some basic ingredients that you'll find easily in any Asian grocery store.
First, let's talk about the origin of this snack. It derivates from the Japanese futomaki (litteraly "big roll"), the biggest of all makisushi, which is filled with a lot of different things. Koreans have adopted this recipe during the Japanese expansion, between 1910 and 1945. Indeed at that time Japan had annexed Korea, which was then only one country, a poor, rural empire.
Koreans suffered massacres, scientific experimentations on human subjects, rapes and all kinds of tortures from the Japanese. But they were also culturally influenced in a very strong way. In 1941, Japan simply banned the teaching of Korean language and history in Korea. Suppressing a country's language is the strongest cultural move. Language is such an important component of cultural identity that there is not much left when you take it away. Some traditions remained, particularly the culinary ones. But in the kitchen too, the Japanese had to impose their way to Koreans.
Japan gone, kimbap stayed and Kim Il-sung arrived
Thin, dried seaweed sheets (nori in Japanese, gim in Korean) became largely used in Korea to roll rice, following the Japanese technique. As those rice rolls were good, and quite practical because you could put more or less anything in it, they were completely adopted by Koreans and stayed long after the Japanese were gone. The name kimbap, or gimbap, comes from the seaweed sheet, "gim", and the rice, "bap".
The recent death of North Korea leader's Kim Jong-il is an important event in history. So I'll just say a few words about life after Japan in Korea. The Chinese and Americans "saved" the Korean Empire form the Japanese, but got engaged in a war against each other. In 1953, the Chinese and the Soviets got the Northern part of the peninsula, and helped building a communist government; the South was protected by the Americans and other allied countries. This story reminds us Europeans of Berlin a lot. Well, the only catch is that, contrarily to Berlin, Korea never got reunited.
Thanks to Uncle Sam, and even worse, Uncle Sam from the Cold War, South Korea soon became the most consumerist country I've ever seen. During my stay there, it was making me sick. North Korea got even less lucky. Staline chose a young guy raised in Manchuria, Kim Il-sung, who did not speak Korean, and decided to make him the great leader of the newborn communist Asian state. He chose him because he was politically engaged, crazy enough but still harmless to the great Soviet Empire, and was from Korean descent.
After a total reinvention of Kim Il-sung (call it extreme makeover if you want), who had learned to speak Korean and had the perfect lies about how he was born, when, where etc, he became North Korea's prime minister form 1948, then Eternal President from 1972. Yes, Eternal President. So he's dead but technically, still the president. It's written on North Korea's constitution.
Eternal or not, Kim Il-sung eventually died, so someone else had to lead the country. It's weird, coming from a communist country, but the successor was his son, Kim Jong-il. Everyone knows the rest of the story, Kim Jong-il and his missiles, Kim Jong-il and his kakis, Kim Jong-il looking at things. He's dead now, and his youngest, obese son will succeed and lead a country famous for its terrible famines. Watching this historic change from the far, I wish all the best to North Koreans, and I hope the snotting mini-Kim won't last long. Okay, now let's go back to our kimbap.
Korean's fast food is a hit all around the world 
You won't find any kimbap in North Korea. They're hardcore nationalists, so everything the Japanese brought to Korea is considered Evil. When the Japanese left, they went back to their roots, trying to regain the purest Korean identity they could. But in South Korea, kimbap is very common. It can be eaten at any time (Koreans do anything at any time, in order to seize the day, seize the minut, seize this very second). It can be a light lunch, a snack, and most people will regard it as fast food.
Different kinds of kimbap can be found, looking exactly like the shapes of the original Japanese dish they come from. You'll have triangles (the Japanese onigiri, become samgap gimbap) or rolls. The very big and colourful rolls are loved by Westerners. It's their favourite Korean dish. The large Korean community in America and Europe easily got us hooked on kimbap. Those rolls are getting more and more common in Paris.
The rolls are generally filled with ground beef or tuna flakes and mayonaise, danmuji (a yellow, sweet pickled radish that the Japanese call takuan), cucumber, imitation crab meat, omelette, carrots and spinach. Sometimes you'll also have burdock or kimchi, the fermented and spicy cabbage that make Koreans crazy. The rice is white and steamed, then lightly salted, with the very special Korean touch: they add a little bit of sesame oil to it. Korean gim is also different from the Japanese nori because, like the rice, it is seasoned with salt and oil, usually sesame or olive oil.
Once you've tried the original Korean kimbap, you're free to try something a bit different and to adapt the recipe to whatever leftovers you have. Leeks, all kinds of raw or cooked greens, shrimp, any meat or fish, well anything, as long as you manage to make a roll out of it. Here's the recipe and the method.
You'll need:
1 danmuji (a long, bright-yellow cylinder that's actually pickled radish)
1 carrot, grated
1 cucumber
1 small can of tuna
mayonaise
imitation crab meat
nori or gim sheets
some sushi rice ready to use, with salt and a few drops of sesame oil
1 fine omelette made with one egg, a pinch of salt and a pinch of sugar
a batavia salad (or lettuce)
1 makisu (maki mat)
This is a simple version that I usually prepare for big events. It pleases everyone easily as there are no problematic ingredients. I also often use baby spinach leaves, raw or boiled, and rehydrated wakame… But let's start with something simple. First, you'll have to cut all your big ingredients (radish, cucumber, omelette) in long strips, about 5mm to 1cm wide, keeping the length slightly superior to the width of your nori sheet. You'll also have to cut the imitation crab meat in two, lengthwise.
The salad must be rinsed then dried. Take a few good looking leaves. If they're big, cut them in 4. If they're medium-sized, cut them in 2 lengthwise. Remove the hard, white parts of the leaves. The tuna flakes will be mixed with a little bit of mayonaise, and some red chili pepper if you like it hot. The carrot has to be grated, or cut in strips like the rest. Put all those ingredients around you as you roll your rice. They have to be on easy reach.
The nori sheet has two sides, only one is right
If you look closely at your nori/gim sheet, you'll notice that both sides don't look excatly the same. One is more irregular than the other one. The flat, smooth side is the outside. The grainy side is the one you'll put your rice on.
Place your nori sheet, grainy side up, on the makisu. Take freshly cooked rice (still warm is perfect) and spread it on the nori with a spoon or your fingers. It must be a very thin layer. Put rice until the very end of the nori on the left and the right, but leave the nori naked on about 1 to 2 cm on the bottom of the sheet, and 4 cm on top.
Now you can add your filling ingredients. Put them on the bottom of the sheet. Start with the salad leaves, a line of tuna, and pile up all the other sticks. For imitation crab meat, take 3 halves to have enough length. If the ingredients are not perfectly piled up, or are longer than the nori, don't worry. You can roll it this way.
With both ends, take the bottom of the makisu and roll it forward, firmly, holding it as tight as possible. The ingredients inside will be trapped. Then you can finish rolling your kimbap in the same way. You'll get a beautiful roll with colourful things coming out of both ends.
If you're not very fun, you can cut those ingredients coming out of the sides to have a perfect finish. But they actually look gorgeous. I leave them that way.
You can now cut your roll. As it is very thick, you'll have to cut it in thin slices if you want people to be able to eat them with one bite. 2 to 3 cm are enough. If the kimbap was rolled correctly, it won't lose its shape as you cut it. The crazy colourful ends will be the greatest of the slices. Every time I make kimbap, those ends are the ones people want first.
Don't cry if your first kimbap doesn't look perfect. Try to make one without the salad. If it seems easier, then pratice on salad-free kimbaps. When you feel comfortable enough with your rice rolls, you'll be able to add the salad and any other ingredient you have in your fridge. I'm sure you'll do great.