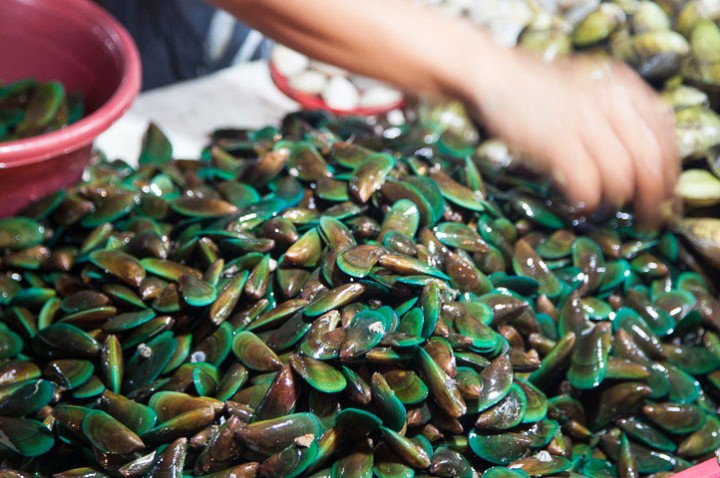 A lot of things look better in the Philippines: the pigeons, the fruits, even the mussels. It's not only because they look new to me, it's objectively because they have a brighter color, which makes them fun and appealing. In France, the mussels are called blue mussels, but in fact they are black. In the Philippines, they have this amazing green shell. Let's take a closer look and I will tell you their story, from the sea to the plates.
Mussels are weird animals. They live in colonies, in their shell, and don't really move, ever. They just filter water. They don't have a head, but they have a foot. So if they want to, they can "walk" around, slowly, and go somewhere else to get attached thanks to their byssal threads, that we commonly call beards. But usually, they are happy where they are, and stay there. If it's not such a good place, well, they die. Don't forget they don't have a head. They are not geniuses.
So no head, but a beard, and a foot. That's a start. There is a surprising quantity of different species of mussels, but only 17 of them are edible. Some of them are quite small, some other ones are real monsters, like this New Zealand green-lipped mussel that I found in the fish market in Busan, South Korea. The length of its shell can easily exceed 25 centimeters. And mussels can have a wide range of colors: some are brown, green, blue, there are even zebra mussels, it just depends on the part of the world they come from.
Different strokes for different folks
First, let's put a name on the Filipino mussels. They are from the group Perna viridis, like the monster mussel from Busan, but there is a species specific to the Philippines, which is called Mytilus smaragdinus or simply green mussel of the Philippines. In Tagalog, their name is tahong. In France, our black mussels are called blue mussels (the inside of the shell is really blue), or Mytilus edulis.
Both of them have very similar tastes. Even though they come from very different places, they have the same size, their flesh has the same texture. They really look alike. When you open them, the mollusc has the exact same color. Females are orange, immature females and males are paler.
When I saw it for the first time, I was stunned by the bright green of the tahong. The color comes from the plankton they feed on. It's so beautiful that it's hard to believe that's almost exactly the same animal as the black, dull mussel from France. But there are a few differences. First, the shell of the Filipino mussel is a bit flatter and more delicate. Second, it's a tropical shell. So it loves warmth. It grows naturally in waters with a temperature around 29°C. So you 'll find it in the West, the center and the South of the Philippines. On the extreme Eastern side of the archipelago, it's the Pacific Ocean, which is colder, deeper, and windier. Good for surfers, bad for mussels.
Third, the salinity of water is capital. If the Filipino waters were as salty as the Mediterranean sea for instance, no green mussel could survive. For those who don't know the rules of salinity, it's interesting to look at a map. The least salty waters are found around the Equator and the poles. The Equator because the tropical rainfalls bring fresh water to the sea all year-long. The poles, because the water from the sea doesn't evaporate a lot, and because there is also heavy rainfalls. And ahem, the ice cap is melting…
Green mussels thrive in light blue waters on the map, which are much less salty than the French seas. Consequently, the mollusc has a sweeter taste than we are used to. But it still has a strong iodine taste. It's somehow disturbing for us as we usually associate salt and iodine in our minds. But they don't always go as a pair. Take garlic, pineapples and corn starch for instance: they have high levels of iodine. In the sea, it's not because the water is less salty that it will automatically carry a lesser amount of iodine.
An edible invader
Green mussels are invasive species. They settle everywhere they can so quickly that they often become a problem. In Florida, Perna viridis are causing a lot of trouble. They clog water pipes of industrial complexes, and foul marine equipment. Besides, they secrete ammonia, which accelerates the corrosion of copper-based alloys found in the water pipes. They are hated there.
They have no problem reproducing and they grow very quickly. For a long time, Filipinos were fishing wild mussels but had no reason cultivating them, as they were so abundant. So mussel culture is very recent there. It all started with oyster growers. They used to regard the mussels as invaders in their farms and were spending a crazy amount of time getting rid of them. As they were trying to collect oyster seedlings in new places, in less silty offshore waters, they only got mussel spats. Amazing mussel spats, of exceptional quality. So the oyster growers started to see things differently. Maybe it was time to try something else.
So they asked the government to work on mussel culture. The first experience was launched in 1962 at the Binakayan Demonstration Oyster Farm, in Binakayan, Cavite by the biologists of the Philippine Fisheries Commission. It was a success. Obviously the mussels wouldn't cost as much as the oysters, but maybe the quantity could compensate. That was the idea.
You might wonder why cultivate them if they are naturally abundant. There are three reasons. First, the people who started growing mussels are growers, not fishermen. It's not the same job. Second, it's much easier to regulate and monitor the mussel stocks if you are the one growing them. Third of all, the demographics of the mussels have not been great for a few decades now. Water pollution is very bad for them, and it is getting worse and worse. Wild mussels, as well as mussel farms are suffering from it. The stocks are declining. So growing them is the best way to still have them, and to be able to check if they are healthy.
Nowadays, the Filipino mussel production is around 13 500 tons a year. In 1993, it was 25 100 tons. A huge difference. The Philippines used to be the 8th producer in the world. Now they are in 16th position. But contrarily to the biggest producers, like China, Spain or France, who export a lot of their production, Filipinos keep most of their mussels for the national market.
Ginger soup, baked mussels, and even mussel chips
The green seashells are found easily and eaten by the locals, even though they'll never be as prized as oysters. People buy and eat them, but it's not something they would die for. They are many ways to prepare them. Some are more traditional than others. The most ancient one is probably sabaw ng tahong, a soup made with mussels, ginger, onions and spinach.
When the Spaniards arrived, they gave ideas to Filipinos, and some of the new culinary techniques they used were adopted. Like baking mussels. It's now a classic. First, the mussels are cooked in water and ginger (hey, we're still in the Philippines), and then served open, like oysters, covered with fried garlic and chili pepper. I could not really taste the mussel because the spicy taste was kind of overwhelming. They is also another way to prepare them, a way that Filipinos love, because they love cheese. They put lots and lots and lots of cheese on the mussels, and then bake them in the oven or on the grill. In both cases, it's more or less the Spanish concept of tapas: those mussels are an appetizer, or a side dish that you will share.
More recently, looking for new crazy ideas, Filipinos have created a new product: mussel chips. In a country where people eat tuna skin chicharon, everything is possible. The local company Ocean Fresh Tahong Chips has a Facebook page where they show pictures of their products. You'll see mussel chips, all kinds of herbs chips, onion, garlic chips… I know you're curious, so go check it out. I'll see you later.