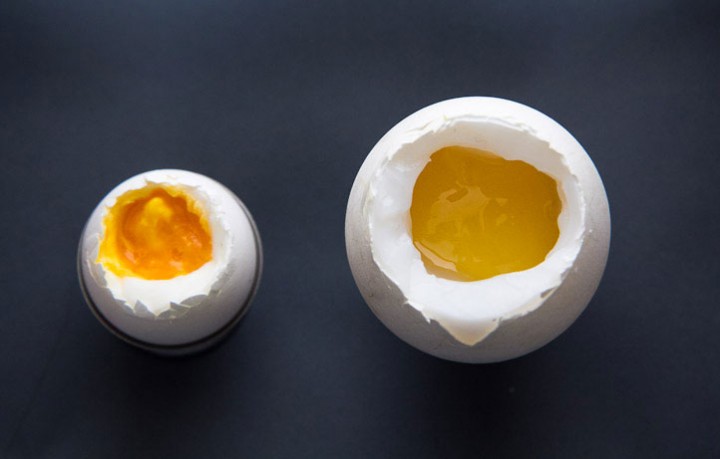 For two years, I've been looking at the goose eggs they sell in a small cheese shop on the rue de Bretagne in Paris. They look great. They're huge, white and certainly delicious. A week ago, I bought one for the first time, then cooked and tasted it. The experience was very surprising.
I bought my goose egg in December, which is not normal at all. Geese lay eggs in a strict seasonal way, usually from February to June. But it doesn't mean anything anymore, apparently. Last winter, it was so cold in France that the geese wouldn't produce any eggs. It was snowing like crazy as soon as early December, and the extremely low temperatures would not rise. The geese did not appreciate. No eggs before the month of March.
This year, the scenario was completely different. The weather was warm in December, so the geese lost track of time. Spring already uh? Let's lay eggs! But winter had not come yet actually. Laying the eggs before winter is the worst thing geese can do. No chick can survive the cold months that will follow. So the producers sell those eggs right away. Keeping them would be pure waste.
Bigger, Richer but not fatter than chicken eggs
A medium-sized chicken egg weights around 50 grams. The average goose egg weights 144 grams. It's huge. If you cook one of these, it will be a real meal all by itself. As they are pretty big and rich, there is a misconception about goose eggs. Most people believe that they are fatter than chicken eggs, which is not true.
To really understand what you'll find in those eggs, and to be able to compare things that actually are comparable, here is a short recap of the composition of chicken, goose and duck eggs.
Chicken egg:
9,5% fat
0,7% carbohydrates
12,6% proteins
76,1% water
143 calories for 100 grams
72 calories per egg
Average weight: 50 grams
Goose egg :
13,2% fat
1,35% carbohydrates
13,8% proteins
70,4% water
185 calories for 100 grams
266 calories per egg
Average weight: 144 grams
Duck egg :
13,7% fat
1,45% carbohydrates
12,8% proteins
70,8% water
185 calories for 100 grams
130 calories per egg
Average weight: 70 grams
Goose eggs are richer, fatter than chicken eggs. But most of all, they have this weird texture and a very different color. I've cooked mine à la coque, which took 8 minutes. When done, I've tried to open it and I was not surprised to find a much thicker shell than chicken eggs'.
Indeed, the bigger the egg, the thicker the shell. I've made the ultimate experience with an ostrich egg, I talk about it here, it was amazing. To open my goose egg, no need for a saw, but I've had to use force. The shell is hard so it's difficult to remove the top as precisely as you would do for a chicken egg.
The white is watery, the yolk is viscous
But the real surprise comes when the egg is open. First of all, the yolk is not orange, it's yellow, a pale, acid yellow. And the texture is surprising. It's exactly the same as the ostrich egg, which has an identical color by the way.
The white part of goose eggs gets harder than chicken eggs' when cooked, but is still less dense. It is also slightly translucent. And the yolk is extremely viscous. When you taste it, you immediately feel that all the richness of the egg is concentrated in the yolk. The white has almost no taste and disappears quickly in your mouth. On the contrary, the yolk is so sticky that it covers your mucous membranes and teeth, and stays. Your saliva will need time to get rid of it.
I like this big white egg. It looks gorgeous and always has a great visual impact on people. But it's not the best egg of all and the texture is not very pleasant. So you can try it for the sake of the experience, but don't expect too much of it. If you are crazy about soft boiled eggs like I am, you'd better try Sex-link eggs (they're giant superchickens), and you'll get 105 grams of happiness.