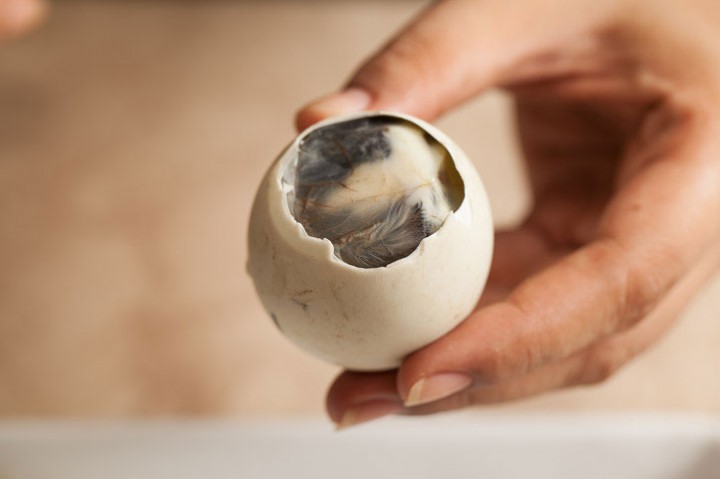 Along with insects, balut is probably the Asian delicacy that creeps out westerners the most. It's a fertilized duck egg in which the embryo has developed for around 3 weeks, sometimes a bit less. It depends on how you like it. You like to feel the baby duck when you chew? You don't like juice? Wait for a few days. The egg is then boiled or steamed, and eaten in its shell.
The most common type of balut in the Philippines is called higop in Tagalog. It is a hard boiled duck egg in which you'll find a white part, a yellow part, and a nicely developed embryo. Really developed, with a head, a nice little beak, two big eyes, legs, feathers and an umbilical cord -well, the exact term in that case is vitelline duct. All of this is full of veins and blood vessels.
Most Westerners feel overwhelmed with disgust when they hear about balut. And I have to be honest, even though I have been staring at those eggs for more than three years, I still haven't had the courage to try one. Repulsion wins, even though it's only cultural. My Filipino friends don't really get my aversion, but they still respect it. Yes, they tell me, it's true that it's not the most beautiful thing in the world. That's why balut is sold when the night comes: it will be eaten in the dark to avoid an horrific sight.
A common daily snack
Filipinos produce and eat balut, but they're not the only ones. The ugly duckling embryo is also loved in Vietnam, China and Cambodia. Children and grown-ups love it there. It is commonly eaten as a high-protein snack.
In the Philippines, they buy balut to eat it on a long jeepney journey for instance, as you can eat it onboard, like a sandwich. Or at night, walking along the stalls of a night market, hop, small snack, easy to grab, easy to eat. Most of the time, it is sold by itinerant vendors. They're is no age to enjoy balut, even though the young urbanites tend to eat it less and less, mostly because of globalization and standardization of food in big cities.
But balut is still very deeply anchored in Filipino culture and most people love it. They could eat it every day, they will tell you, but balut-addicts often have to cut their habit, with regrets, because this over-egg is a cholesterol bomb. The maximum daily dose should not exceed 300 mg, but only the yolk of the balut contains 359 mg of cholesterol. If you eat several pieces, you'll feel dizzy. If you drink alcohol with it, it's even worse.
Balut anatomy
You'll find several types of balut. Depending on the incubation time (18 to 21 days) and on the way the embryo developed, the result will vary and have a specific name. The eggs will be marked as the specific type is not visible for the buyer. Higop is known as "the perfect balut", incubated for 18 to 19 days, with a perfectly formed embryo, then boiled for 15 minutes.
Inside, you'll find some juice (the albumen), a white part (the allantois), a yellow part (the yolk) and nice little foetus. The foetus feeds on the nutriments of the allantois and the yolk to develop, which is why there are so many veins, carrying blood around these three parts. But there are also veins on the inside of the shell to carry oxygen that is pumped through the pores of the shell.
Another typical balut type is called tuyo, which means "dry" in Tagalog. The egg was incubated for 20 to 21 days and is consequently closer to hatching, which happens around 28 days. It will be dry, without the albumen juice.
You'll also find PSB (Penoy Sa Balut), in which the embryo did not develop. They are almost not vascularized, have a huge yolk, a lumpy white that reminds me of cottage cheese, and a micro-embryo that is hard or impossible to see.
How to eat balut
You have to start by opening the shell on its flat extremity, contrarily to the French oeuf à la coque. There's a reason: there is an air cell in this corner, just under the shell, so opening the egg will be easier. The down side is that it is also the way to go to show the embryo first, and not the white part. Only the flat top of the shell has to be removed.
You can pour garlic and chili vinegar in the opened shell, or just add a pinch of salt. Then you'll have to sip the juice. After that, you will remove the rest of the shell and eat everything that's inside of it, in only one huge bite. It's good to drink a lot of vinegar afterwards to lower blood pressure according to the people here.
Some people don't really like the embryo and eat eveything else, leaving it on the side. Personally, once more, I failed. But I've asked my friends Cal and Cyra to take me to Pateros, the balut Mecca, to go to a balut factory. There, I'll be able to see the whole production chain and tell you more about it. And this time, I hope I'll be able to have a taste of it. To be continued…