A crab anthology: the black crab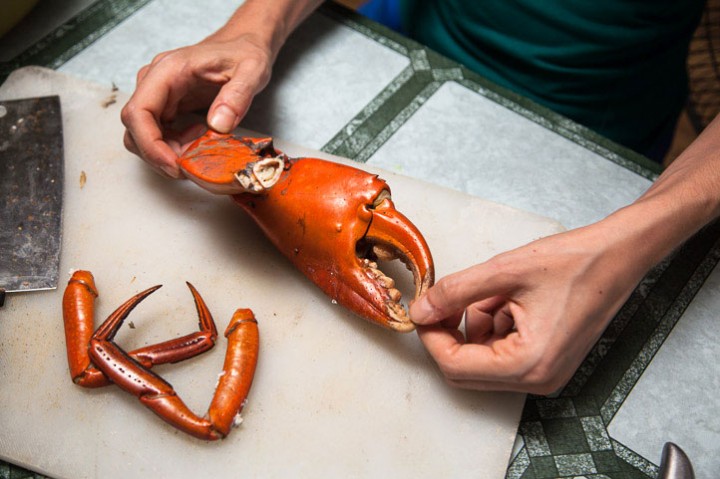 I love crab. From the Norman brown crab to the huge Japanese king crab, I've tasted many of them. So I invite you to come with me on a crab world tour. In each article, I'll present different species.
The first crab we'll meet is the black crab. I've found it in Coron, an archipelago located North of the Palawan province in the Philippines. It is also known as the mud crab and the mangrove crab. Those terms don't really sound good. But this crab is absolutely delicious and also very interesting as an animal.
The scientific name of the black crab is scylla serrata. It lives in mangroves and estuaries in Asia, Africa and Australia. It loves tropical waters, and has no problem with dirt. He thrives on it.
A monster weighting more than 3 kg
It might be called black, but it's not. It's brownish, even dark blue or green sometimes. When cooked, it becomes red. All of this is familiar to anyone who knows almost any crab species. But my dear mangrove crab is not any crab. First of all, it's huge.
My little friend from the market in Coron Town seemed quite big to me, I was very excited. 1.6 kg, yeepee, each claw is like a steak. I bought it immediately. What I didn't know is that this species can reach easily 3.5 kg. My mighty crab was just a dwarf.
Second of all, the mud crab can resist a lot of things. It's a tough one. Australia has developped mud crab farming because, contrarily to others, this species tolerates a big amount of water pollution, as nitrate and ammonia.
It tolerates it, which doesn't mean he's not contaminated by it. And you know, a crab can live a long life. So you can imagine what kind of chemicals it accumulates year after year. Yummy. Aquaculture crabs are fished when they reach 2 to 4 years, so fortunately they don't really have time to become chemical bombs.
When I say that black crabs can resist a lot of things, I'm also speaking litterally. Their shell is extremely hard. To crack open the claws of my Filipino crab, it took us a long time, using every tool we could find in the kitchen.
The black crab never gets tired
It is also tireless. Even when it has been fished for several days, it's still fidgeting like crazy in its basket. It never stops. I've walked mine around in a pastic bag, under the hottest sun, then I've left it for a few hours, still in the closed bag. When I came back, it was still as excited.
If you're thinking about killing it with the freezer technique, be patient. You'll need to leave it at least 2 hours in your freezer to put it to sleep.
Huge, resilient, the black crab is also prolific. Females can give birth to 1 million offspring. The number is so big that it seems absurd. That's what I call a mummy. Laying hens, you suck.
But even though it can resist the worst pollutions and makes enough babies to rule the world, the mangrove crab aquaculture is limited. Indeed all offspring doesn't get to grow up, because they have a highly cannibalistic nature.
A crab that eats crab
Most crab species are opportunists. They're omnivorous scavengers, eating about anything they find. You can feed them vegetables, fish, meat, rotten or not, they'll take it. And regularly, they molt. This phenomena is called ecdysis. A fantastic video of molting king crab can be seen here.
For a short time, the molting crabs are naked, just the time to get a noew solid shell. For a few days, they'll have to be very careful. Other crabs will attack them like maniacs if they find them. They feast on each others' naked flesh as it has no more protection.
Well, all of this dreadful stuff being said, is that mud crab good to eat? My answer is yes, oh yes. Its flesh is firm and sweet, less salted than our Norman brown crabs'. The taste of iodine is also much lighter. As this crab lives in mangroves and estuaries, it filters a lot of fresh water, so it's not surprising.
Even if my 1.6 kg crab is not a giant compared to what the species can do, I've had the crab steaks I was dreaming of. This crab is huge and it also has a lot of flesh. We were two, eating only the crab for dinner, and we've had a hard time finishing it. And yet I'm hard to stop when you put a crab in my plate.
So, if you like crab and you encounter one of those, go ahead, try and eat it. In most countries, it's considered as a delicacy and it is quite expensive. But in the Philippines, mine cost only 8 euros. For such a wonderful meal, it's a steal.