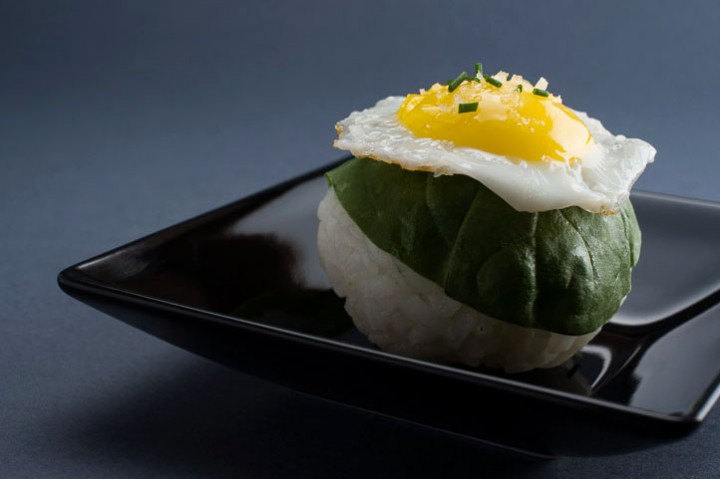 If you have followed the recipe for temari sushi but you are not very inspired, here are some easy to make, original ideas.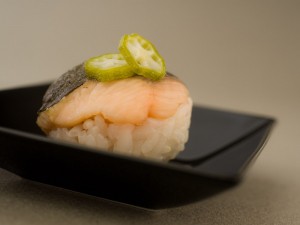 1. Mi-cuit trout and gombo 
To begin, let's make a trout and gombo combo. I've bought a trout and I've filleted it. I left the skin on. I've just removed the scales and rinced it thoroughly. I cut the filets in pieces, about 4x5cm in size. I pat dry the pieces and I quickly sear them in a pan, just on the skin side. This way, the trout stays soft and flexible. It has this nice sashimi taste combined to a crusty, delicious grilled skin.
Then I let the trout rest for a few minutes, until it cools down. When it's warm but not hot any more, I use the cellophane technique, just like the wahoo recipe. Then I add some rice on top of it and I form my ball. Once the temari sushi is out of the cellophane, I add two thin slices of raw gombo.
Gombo (オクラ in Japanese, say shishito) is not great to work with. When you cut it, it becomes slimy. The weird, stcky juice runs for hours, and you will never really get rid of it, even if you marinate it in vinegar. But the tiny slices look exactly like adorable little flowers. And the slimy juice can be handy when the gombo is used in a decorative way. Indeed, it will stick the slices to the sushi so everything will stay at its right place. The taste of the gombo is not very strong. It doesn't change the whole dish in a good nor a bad way.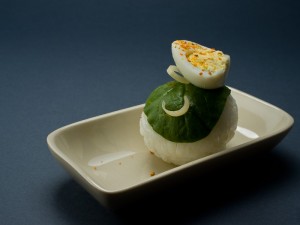 2. Baby spinach leaf and hard boiled-egg
Spinach leaves are flexible enough to wrap a ball of rice without any problem. So I've directly put the leaf and the rice on the cellophane and formed my ball. The leaf is relatively robust so it shouldn't break, unless you press the ball like crazy. But be careful not to use hot or warm rice as it would cook the leaf.
Then I've boiled quail eggs. Once they're cooked, you will have to wait until they cool down to peel them and cut them in half. While they were getting cold, I've used a slice of lemongrass to make a base for the egg, that would not stand on its own. It also brings some acidity to the sushi. I've put half of the egg on it, then a pinch of Japanese red chili with sesame seeds, and voilà, a vegan and cheap temari sushi that looks absolutely gorgeous.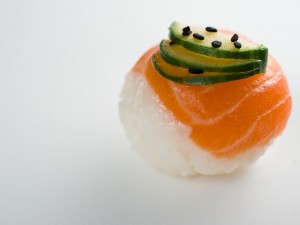 3. Raw salmon and cucumber
These ingredients are a classic. It's common, but the colors are still beautiful. This temari will always make a good impression, even though it's not very original nor very hard to make. You just need to cut a piece of raw salmon, about the same size as the sashimi bites you usualy get in Japanese restaurants. So the size should be around 3x4cm, and thin enough to be able to follow the curve of the rice ball.
You can then put what you want on it. I've used a small piece of a cucumber slice that was about 3mm thick. I've cut it in very, very thin slices, keeping one tip of the slice intact. It looks exactly like a small hand-fan. Then I've used some roasted black sesame seeds to give it a nice smoked taste. The salmon is melting in the mouth, the cucumber adds a crunchy touch, and the sesame gives it a kick. Always works.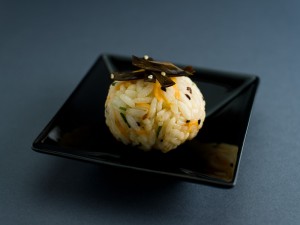 4. Carrot and sesame rice, kombu 
The sushi ball can be topped by a wide variety of ingredients. But it is also possible to mix them with the rice. Furikake (in Japanese ふりかけ) is a condiment made of dries fish, eggs, seaweed, etc, that you will add to the rice when it's still warm and moist, just after cooking it. It's one way to go to make this kind of temari sushi.
I've done something a bit different. I finely grated some carrots and I've mixed them with the rice when it was still hot. They got cooked almost instantly by the heat of the rice, without any effort. Then I've put some roasted white sesame seeds in the mix, when the rice had cooled down. The result is a nice, colorful and flavorful rice. If the ingredients you add are small and soft enough, it will mix perfectly with the rice that you will be able to use as plain rice afterwards. In the case of the carrots, that I've finely grated, their long strings even made the rice ball more solid.
To top it, I've used kombu, the little brown stuff that you can see on the picture. It's a type of seaweed that is used a lot in Japanese cuisine. You will find it dehydrated in Asian grocery stores. Once you've softened it by soaking it in water, it can be used in so many different ways, but my favorite is kombu no tsukudani. The kombu is cut in small bits and simmered with soy sauce, mirin, sugar and sesame seeds until it caramelizes and gets thicker. You will get a very sweet, salty and iodized seawed. It's magical. Its strong flavour balances perfectly the sweetness and the light acidity of the carrots. You can use it on top of the sushi ball, or mix it with the rice if you cut it in very thin slices.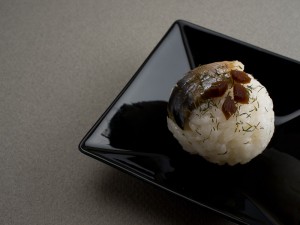 5. Pickled mackerel, burdock root, dill
Okay, these are not the easiest ingredients to find. But in Paris, the mackerel is sold raw and pickled at the same place as the burdock root, in the Ste Anne district. The pickled mackerel is sliced as a mackerel sashimi, which means it is slightly cut in between the slices, which will make it more flexible. The skin has been removed.
The burdock root is pickled too, in a way close to the kombu I was just talking about. It tastes sweet and salty. This long string-like root is perfect to make maki-sushi because of its shape, but it can also be used sliced. It will look like small dark diamonds and give a fibrous touch to the temari. Some dill springled on top of it and it's ready. It you're not fond of strong tastes, then you should avoid the mackerel. Be careful about this temari sushi if you're only used to the sweet taste of raw fishes like tuna and salmon. It's something else.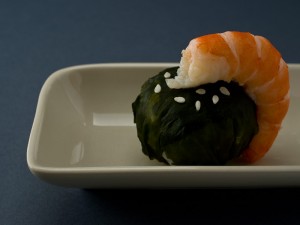 6. Wakame and shrimp
Wakame is perfect for the cellophane technique because it is very thin, flexible and robust at the same time. This seaweed can be rehydrated in water in a few minutes. I've used it to cover my rice ball. I've cut a 5x5cm piece of seaweed that I've put on the cellophane. Then I've added the rice and formed my ball as always. This kind of seaweed is a little elastic. There is no risk it for it to beak.
Regarding the shrimp, I've peeled it and I've noticed that it had about the same natural curve as the rice ball, which was the perfect size to fit in. A few sesame seeds for the taste and the crunch and you get a sweet temari, with surprising textures and colors.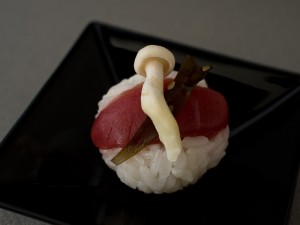 7. Tuna, straw mushroom and kombu 
Just like the salmon, raw tuna is a classic. I've put a raw straw mushroom on top of it, but it can also be cooked, simmered of fried. I've also used kombu no tsukudani. Straw mushrooms are available in any good Asian grocery store. It grows in bushes, so look for for them in the fresh food department. I've chosen a variety that is not slimy. Indeed some of these mushrooms, like nameko, are delicious but a little gooey and are better used in a clear soup.
On this temari, the kombu – that is a bit sticky because it was cooked with sugar – is used as a steady base for the mushroom. It also brings a sweet-salty touch to the the very distinct flavors of the two raw ingredients.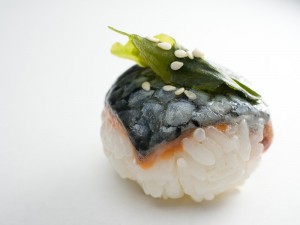 8. Raw salmon skin, wakame
When you watch Japanese people eat, at the restaurant or at home, you'll be surprised to see that they don't leave anything when eating fish. Most of them won't have any problem eating the bones; the heads are used to make soup and are served and eaten along; the skin is considered a treat.
Well, the skin of most fish is not a real problem. But salmon skin is really tough. It's thick and hard. So, even though this temari is nice and shiny, it's not for everyone. Make sure you have strong teeth if you want to try it. I've peeled my raw salmon and cut the skin in little pieces. Then I've put it first on the cellophane, followed by the rice to make a ball. I've used a small piece of wakame and some sesame seeds to top it.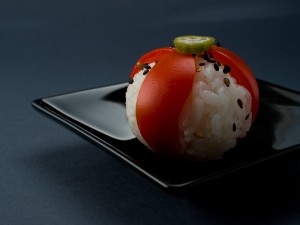 9. Tomato and gombo
This one is really fun. It's not that easy to make, but the result is visually interesting. I've cut a small, firm tomato in quarters. I've chosen it the exact size of a temari sushi so it would perfectly fit. I've removed the seeds and some of the pulp so the quarters would not be too thick. To make the ball, I've had to be very patient and careful. It is difficult not to lose the arrangement of the tomato quarters. The idea is to get a temari that looks like a a ball, those big red and white striped-balls children play with at the beach. So you'll get that king of stripes : one tomato quarter, rice, tomato quarter, rice, and so on.
The gombo on top was used the same way as before. Some black sesame seeds for the taste and the crunch, and it's done.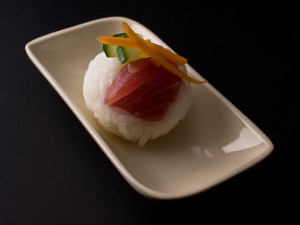 10. Tuna, carrot, cucumber and ginger
The idea is the same as earlier with raw tuna. The temari is directly formed with the fish on top of it.
To give a kick and some crunch to this sushi, I've added some raw grated carrots and some little pieces of cucumber. To stick all that to the fish, I've used a very special glue : ginger marmelade. This little spicy and sweet touch gives a perfect finish to the tuna.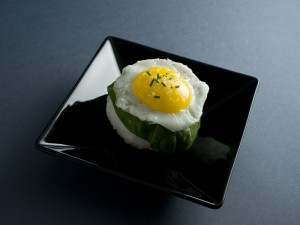 11. Baby spinach leaf and oeuf au plat
It's basically the same concept as the hard boiled egg temari. The rice is shaped like a ball with the spinach leaf on. The difference is that, this time, the quail egg was fried and not boiled. The problem is the egg spreads a lot in the frying pan and when it's done, it is too big for the temari. So I've cut the borders of the fried egg to give it the right size, and perfect round shape.
Some chive, a small pinch of fleur de sel, it's good to go. The yolk, which is not completely cooked, will melt in your mouth and mix to rice as you eat it. Delicious.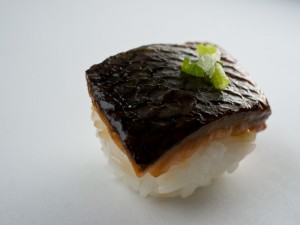 12. Grilled salmon skin and spring onion 
Raw salmon skin was a hardcore one. But when you grill that skin, it becomes crunchy and easy to eat and to digest. So I've grilled it, without any fat, directly in the frying pan. Once grilled, I've added some soy sauce, some mirin and some honey in the pan, which made a thick a sweet sauce. So, in a way, it's a kind of teriyaki salmon skin.
The tastes are rather strong, so I didn't want to put a bunch of other stuff on it. I've just addedsome very thin slices of spring onion. Their taste is strong enough not to be killed by the tasty salmon skin, but not too strong so it won't ruin the salmon. Just so you know: the skin tend to get hard and to shrink when you grill it. Keep that in mind when cutting it in pieces when it is still raw : you should make them a bit bigger than usual. Also, as the skin is thick, it is not that flexible. So the temari will not be a perfect ball. But it will taste amazing.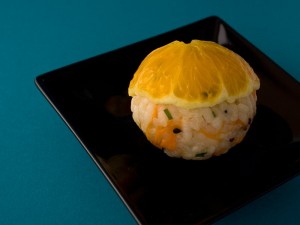 13. Carrot rice, spring onion, sesame and orange
The rice mix from earlier has been slightly modified : I've added some chive in it. Then I've cut the thinest orange slice. I've removed the peel and the white membrane as much as I could without destoying it. The ball was then formed with the orange on. It was flexible enough to get the right shape because it had no peel and because it was so thin.
I've only put half the orange slice on the sushi, but you can use all of it. It tastes sweet and refreshing, slightly sour.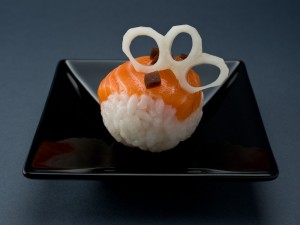 14. Raw salmon, renkon, ginger and burdock
This one is haute couture. I've used some raw salmon, and some renkon (レンコン in Japanese). It's a lotus root, very popular in Asian cuisines. It is usually eaten baked, simmered, stewed, sweetened… Well, they make a lot of things with it. Its flavor is not that strong but very special. It looks lovely when it is cut in slices : you get circles with holes in it, it is very geometric. Most people believe, at first, that someone carved the root. But it's just nature.
I've used only one part of the circle. First I've par-boiled it with vinegar (it gets brown if you don't put anything acid on it). Then i've cut it to get the exact shape I wanted. If you follow its natural curves and have in mind the size of you temari, it should be able to stand on its own. But just to be sure it stays on, and because it is delicious with ginger, I've added a touch of ginger marmelade. Burdock root adds a rather strong taste, so don't put too much of it if you want to appreciate the renkon.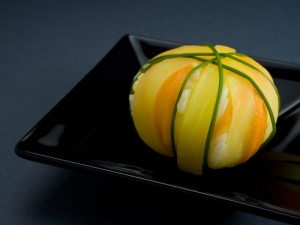 15. Daikon, chive and carrot
My favorite. The king of temari. It looks exactly like real temari balls, which are made of colorful fabrics. It is made with daikon, the Korean pickled radish. This big vegetable has a great bright yellow color and is very sweet and juicy. I've cut it in thin strings, 1mm thick, 5mm wide. Then I've used my peeler to get some very long and thin strings of carrot. I've put those ones in water. As they soak, they get more flexible. Then I've cut some chive. All of these ingredients must be longer than the circumference of the temari, so they must be at least 10cm.
Then it is quite technical. I've arranged all those strips on the cellophane, it looks a bit like the way kids draw stars. Then some rice, and the hard part is to make the ball without destroying the nice pattern of the strips. The ends of the strips will be under the temari. You will have to find a way to make them stay in place. I've tightened them and buried the ends inside the rice ball.
Bon appétit!